Europa Editions is celebrating International Women's Day (March 8th, 2019) this year by spotlighting over 70 titles from across the world by female authors and translators - because women produce incredible fiction and nonfiction everyday!
Many of Europa's perennial bestsellers are by women including the charming The Nakano Thrift Shop by Hiromi Kawakami, +1 million copies sold The Elegance of the Hedgehog by Muriel Barbery,My Brilliant Friend by Elena Ferrante which has been adapted into HBO series, the The Distant Marvels by Chantel Acevedo and more.
From books translated from their original languages of Greek, Italian, Japanese, Spanish to beloved and award-winning British female authors like the wonderful Jane Gardam, the titles included on the Women Write the World list are as diverse, engaging and brilliant as the women that write and translate them.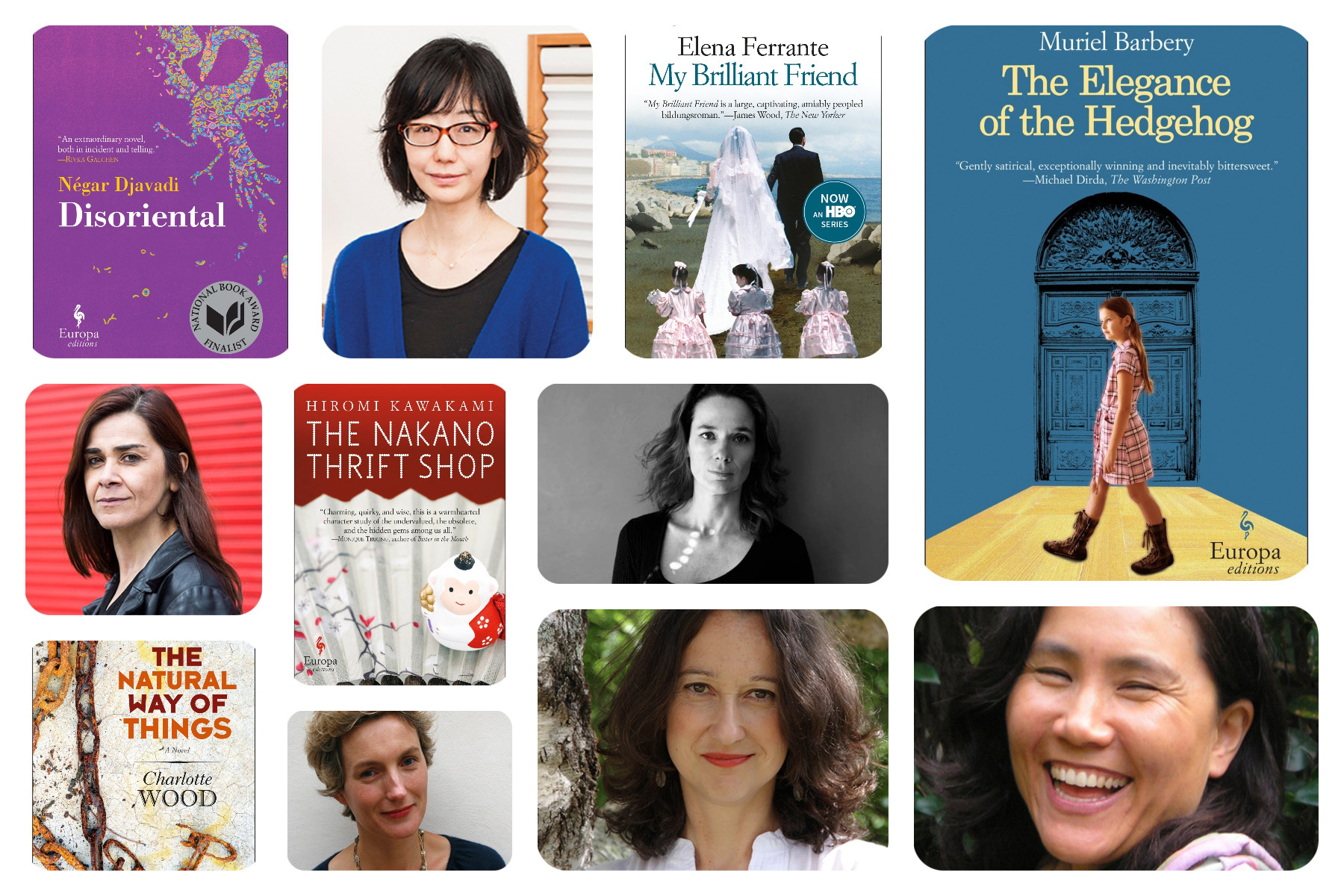 "For me, women's history month isn't just about celebrating those famous female figures who have been at the forefront of social and political progress over the centuries; it's also about the millions upon millions of women who lived their lives without ever being allowed to have a voice, who never had the chance to express their intellect and ingenuity and talent. As a woman and a translator it's my privilege to be a small part of the effort to ensure that women will never be silenced again, that female voices from every country and culture and every part of society will continue to enrich, instruct, and entertain us, now and for ever."
—Tina Kover (2018 Translated National Book Award finalist, translator of Disoriental by Négar Djavadi)
Take a look through the full Women Write the World title list below and for more information on all of these titles click here
All of these titles are available at your local bookstore or at online retailers!
A Catalog of Birds by Laura Harrington
A Kind of Intimacy by Jenn Ashworth
A Long Way from Verona by Jane Gardam
A Novel Bookstore by Laurence Cossé
An Accident in August by Laurence Cossé
Animals by Emma Jane Unsworth
Back to Delphi by Ioanna Karystiani
Bilgewater by Jane Gardam
Bitter Almonds by Laurence Cossé
Bone China by Roma Tearne
Broken Colors by Michele Zackheim
Cecilia by Linda Ferri
Disoriental by Négar Djavadi
Dog Day by Alicia Giménez-Bartlett
Eva Sleeps by Francesca Melandri
Everland by Rebecca Hunt
Faith Fox by Jane Gardam
Firefly by Janette Jenkins
Frantumaglia (HC) by Elena Ferrante
Frantumaglia (TP) by Elena Ferrante
Gourmet Rhapsody by Muriel Barbery
In the City of Gold and Silver by Kenizé Mourad
Kehua! by Fay Weldon
Last Friends by Jane Gardam
Life, Only Better by Anna Gavalda
Mayumi & the Sea of Happiness by Jennifer Tseng
Mikhail and Margarita by Julie Lekstrom Himes
Mosquito by Roma Tearne
My Berlin Child by Anne Wiazemsky
My Brilliant Friend by Elena Ferrante
Old Filth by Jane Gardam
Prime Time Suspect by Alicia Giménez-Bartlett
Red Joan by Jennie Rooney
Revolution Baby by Joanna Gruda
Seven Lives and One Great Love by Lena Divani
Signs for Lost Children by Sarah Moss
Sorry by Gail Jones
The Act of Losing by Rebecca Connell
The Beach at Night by Elena Ferrante
The Days of Abandonment by Elena Ferrante
The Distant Marvels by Chantel Acevedo
The Elegance of the Hedgehog by Muriel Barbery
The Father and the Foreigner by Giancarlo De Cataldo
The Flight of the Maidens by Jane Gardam
The Followers by Rebecca Wait
The Gardens of Consolation by Parisa Reza
The Girl in the Polka Dot Dress by Beryl Bainbridge
The Golden Age by Joan London
The Gringo Champion by Aura Xilonen
The Life of Elves by Muriel Barbery
The Lightning Tree by Emily Woof
The Living Infinite by Chantel Acevedo
The Lost Daughter by Elena Ferrante
The Man in the Wooden Hat by Jane Gardam
The Man Who Snapped His Fingers by Fariba Hachtroudi
The Nakano Thrift Shop by Hiromi Kawakami
The Natural Way of Things by Charlotte Wood
The Nun by Simonetta Agnello Hornby
The Pathless Sky by Chaitali Sen
The People on Privilege Hill by Jane Gardam
The Secret Sister by Fotini Tsalikoglou
The Stories of Jane Gardam (HC) by Jane Gardam
The Stories of Jane Gardam (TP) by Jane Gardam
The Story of a New Name by Elena Ferrante
The Story of the Lost Child by Elena Ferrante
The Unknown Bridesmaid by Margaret Forster
The World is a Wedding by Wendy Jones
Theory of Bastards by Audrey Schulman
Those Who Leave & Those Who Stay by Elena Ferrante
Three, Imperfect Number by Patrizia Rinaldi
Time Present, and Time Past by Deirdre Madden
Troubling Love by Elena Ferrante
Weeping Waters by Karin Brynard